So you you want to record your intercom or ATC audio? Well that's a great idea – it's a great training tool, allowing you to review what you're learning. Even for experienced pilots, those who are not Class C current can go back and figure out what they did wrong when ATC yells at you!

The thing is, lots of people say, "..just go buy xyz wire from Radio Shack and Plug'er in". Problem with this advice: It's BAD advice. It's part 'quality' and part 'risk'. Here's why:
1. Stabbing homebrew cabling into a $3000 aircraft intercom system (or more if you have fancy panels) is not worth the risk of damage if you ask us. Using factory soldered and tested cables is much safer. I'm sure it's debatable, but the fact is no one is as good at custom wiring a cable as a manufacturing team – what would you tell your FBO (or your wife) if their $3000 Garmin COM decides to fail while your custom cable just happens to be in use? Plus a $39 cable is an instant success too without running around 'building' something new.
2. This is a matter of personal taste, but a well manufactured cable with a proper circuit design and shielded wire in an electronically noisy environment (RF) will yield the BEST results. Fred, a recent customer, just sent us an email claiming it's a "..much better sound clarity than my cobbled-together Radio Shack solution". When impedance is properly matched the levels in the audio are near perfect, without being distorted from overdrive. This 'impedance matching' is the circuit board design which is housed inside the little black box you see in our cables – this is not simply a 'splitter' for the cable, there is electronic audio processing going on inside to bring the audio levels to an appropriate value for your recording device.
3. The 'mic-in-the-earpiece' trick is lack-luster at best. It's highly variable and unreliable. The levels are never the same from one flight to the next as it will vary based on position in the ear. If you want a quality and reliable audio recording, don't go that route just for the $20 you save. "Make a memory" and record something worth listening to!

So then, what's the BEST solution to recording ATC audio?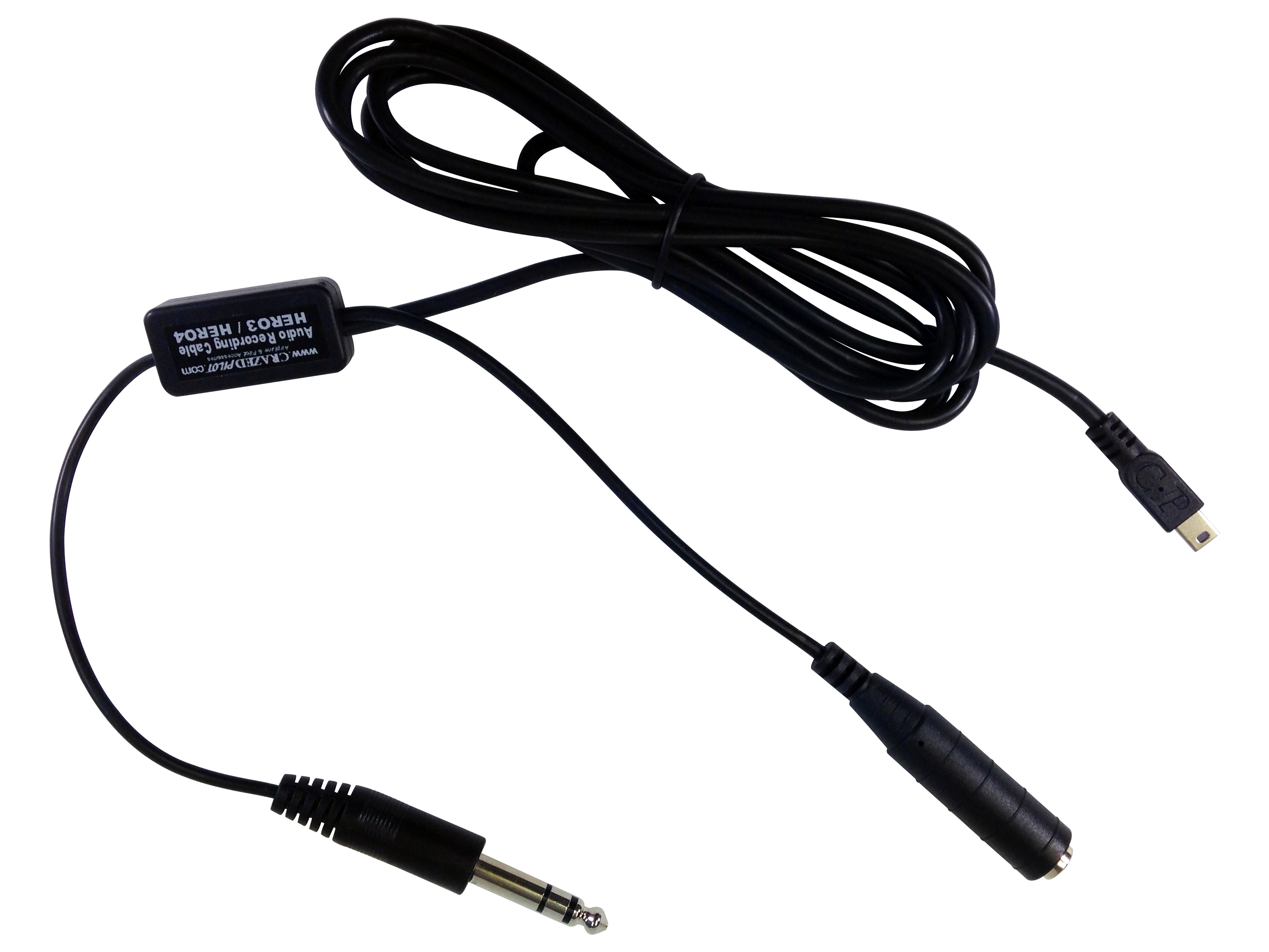 How about recording to your GoPro HERO3 orHERO4 cameras (all models excluding HERO4 "Session")? No problem there either. The Hero3 and Hero4 have a different connector that looks like a miniUSB connector - but it's not like a normal miniUSB, it's proprietary. A specially designed cable is used to let those of you with this excellent camera record great audio too while recording all the action. Want to see the product or purchase it? Great! Just click on the image to the left!
How about recording ATC audio to your iPhone or Android? No problem – we offer a cable that's designed exclusively for this job. The iPhone makes an excellent audio recording device – a device lots of people carry, which have perfect audio recording capabilities. You can use any recording App for the job. Click here to check our the CRAZEDpilot iPhone/Android cable.
Want to check it out? Just click on the image to the right – there is no safer solution for this job nor any better audio fidelity available!
GoPro has recently introduced the HERO5 and HERO5 SESSION cameras, both of which support audio input recording. Their interface is much more complex requiring a digital interface to the camera making is a little more expensive but we have a solution for your needs! The CRAZEDpilot HERO5 audio interface cable provides full analog to digital conversion of your ATC and Intercom communications which is then recorded to the GoPro HERO5 camera along with your epic video footage! Check out the CRAZEDpilot HERO5 cable here, or click on the image to the left!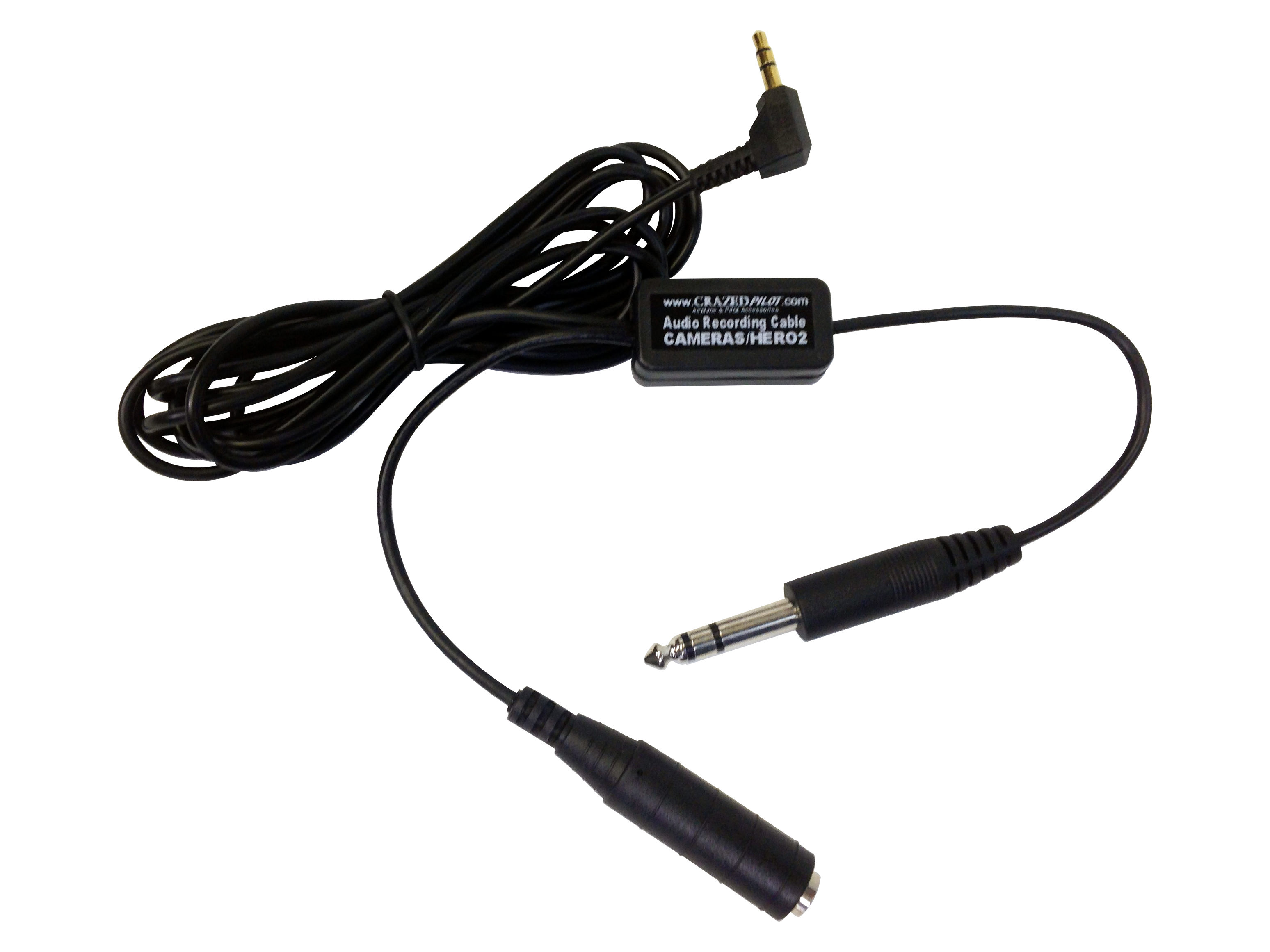 Want to record your airplane intercom to a camera or pocket recorder? This $39 cable will fit this job – it is configured special for connecting with GoPro HERO2, ContourHD, Drift camera, or any audio recording devices like pocket recorders or other cameras with mic inputs – about anything that supports a 3.5mm mic input. Want to see the product or purchase it? We hope so! Just click on the image to the right!

FLY HELICOPTERS? We have not forgotten about you! CLICK HERE to see all CRAZEDpilot HELICOPTER adapter cables as shown above!

We hope this guide has given you some insight and ideas on how to utilize this technology to increase your safety, enjoyment, and learning in aviation. It's a cost effective solution for all general aviation aircraft!

If you have any questions or thoughts, please reach out using our CONTACT page! Fly safe!


-Brendan
Co-Founder
CRAZEDpilot.com, Inc.